Turn a PowerPoint Presentation Into a Birthday Video - Surprise Your Loved Ones With a Unique Gift
There are many ways to make a perfect birthday surprise for your beloved ones. If you are not feeling creative but still want to find a unique gift, make a video for them! Here are a few tips on how to delight a family member or a friend on their big day!
You can make something that will last for years and years, by starting with a simple Powerpoint presentation. Narakeet will turn it into a charming video, perfect for sharing through social media channels.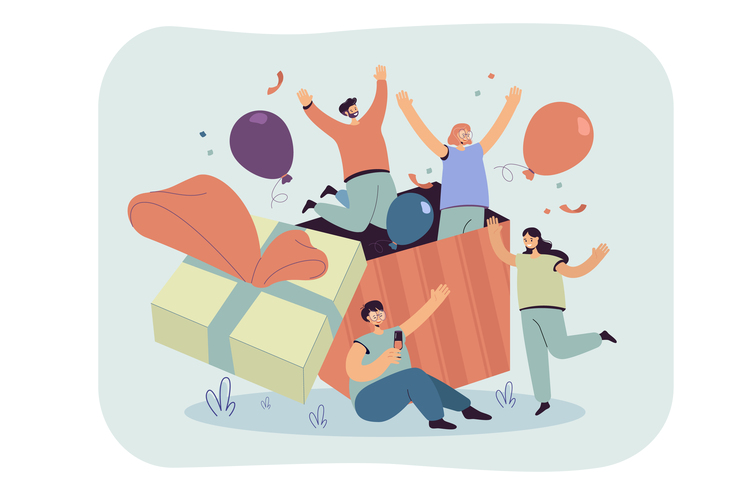 Gather all the necessary materials
Firstly, think of some "life highlights" – special moments that you and the other person experienced together. Find photos if you can. Ideally, also add some of their favorite childhood pictures. Throw in some extra funny moments - maybe from school or work - and anything else that they will be happy to remember. Then just put it all together into a slideshow, by adding pictures to PowerPoint slides.
Because you'll be turning the Powerpoint presentation into a video, make sure to start with a large slide size. Check out our guide on selecting the best video size for information on the required slide format for YouTube, Facebook and other popular platforms to share video. You can even find some nice template formats on that page to get started easily.
Create a script for your video
Become a film director! Don't worry about being professional. Do it in an authentic way, even if it's amateurish, but make it from your heart. Write a script that will explain the key moments of your presentation, and just type up the text into the speaker notes of your presentation. Our narrator voices will smoothly turn this script into sleek storytelling, that will accompany your slides.
Here are a few ideas for including in your script:
Talking about how much they mean to you
The first meeting, the first drinking, the first journey together, etc…
Who knows your friend better than you? Prove it. Make a little quiz. Create a carousel slide with their favourite things (food, movie, color, book, quote…)
Add some unpleasant but memorable scenes from their lives
Say something about their future: desires, thoughts, challenges…
Remind them of their bucket list
Don't forget some birthday wishes: "Happy birthday my dear…!"
Add captions with the date and location where the photos were taken
Use PowerPoint slides to add captions to the photos. That is a great way to look back at all the cool things you saw, did, and experienced together. For example, "April 25th: San Francisco" or "July 4th: Jumping with Joy". You can also add descriptions for what happened in the photo. It's a quick and easy way to make your photos more personal!
Include their favourite songs or just "Happy Birthday" by The Beatles
It's time to figure out what kind of music they enjoy. Some people may find this tricky because not everybody listens to the same genre. But don't worry! There are some simple ways that you can figure this out without even having to ask them. One way is by searching through social media profiles and looking for any artists or songs listed in their posts or stories. Another great way is by asking them to share their Spotify playlists with you. Lastly, just ask them! It's always better to be safe than sorry.
Have the audio file handy - you can include it as background music into your video after uploading to Narakeet.
Leave the dull tasks to us
Now that you have gathered everything in one place, it's time to turn your presentation into a magical video that will win the hearts of viewers. Simply just upload the presentation with speaker notes to Narakeet.
If you do not have PowerPoint handy, do not worry. You can also use Google Slides, Open Office or Apple Keynote. The best format to upload is Microsoft PowerPoint (PPTX), but Narakeet can also load PPT, PPSX and ODP files. If you use Google Slides, just select File ⮕ Download ⮕ Microsoft Powerpoint from the application menu to produce a PPTX file. If you are using Apple Keynote, save the presentation using File ⮕ Export to ⮕ Powerpoint to create a PPTX file.)
When you upload the presentation, click the "Edit Settings" button, and upload the music in the "Music" section. Check out How to add background music to a video clip if you need more help. Click the "Create video" button and in a few moments you'll have the perfect birthday video gift.
Get ready for the show
The video is ready to go public! Now it's up to you to decide how do you want to deliver it. Videos can get quite big, so sending by email might not be the best idea. But here are three very effective ways to make a big splash:
Upload it to YouTube. Make the video unlisted (private) if you want to keep it quiet, or make it public for a big show. Send the birthday girl or boy the link to the video on their special day.
Share the video on a social network - Facebook, Twitter, Instagram, or whereever there are lots of people you both know!
Prepare a surprise party. Gather your friends and make the premiere of the video just like on the big cinema screen. Don't forget popcorns, nachos, drinks and cake. It's going to be an unforgettable night!
Share it on social media with your friends!
You don't have to be a famous YouTube or star influencer in order to share dear memories with your friends. Spread the joy and make someone else happy. Involve your community to enjoy your loved birthday. When the years go by, that social network will probably inform you again about that published content, so you will create a great digital memory for yourself.
It's time for action!
Go ahead and prepare everything for the next most amazing gift ever. You don't have to be a pro video creator, film maker or editor in order to get an amazing video. With just a bit of time and creativity, you can surprise your loved ones with an adorable video that is sure to bring smiles all around. Happy filming!
Cover image: Ribbon vector created by pch.vector - www.freepik.com