5 Tips For Making Videos For Facebook
When you scroll down your Facebook feed, you're likely to be flooded with video content – and that is by design. So, now you have the great idea to make some of your own videos for Facebook, but you don't know where to start, right? In this short article, we are going to provide you with 5 tips for making videos for Facebook, so that you can drive engagement.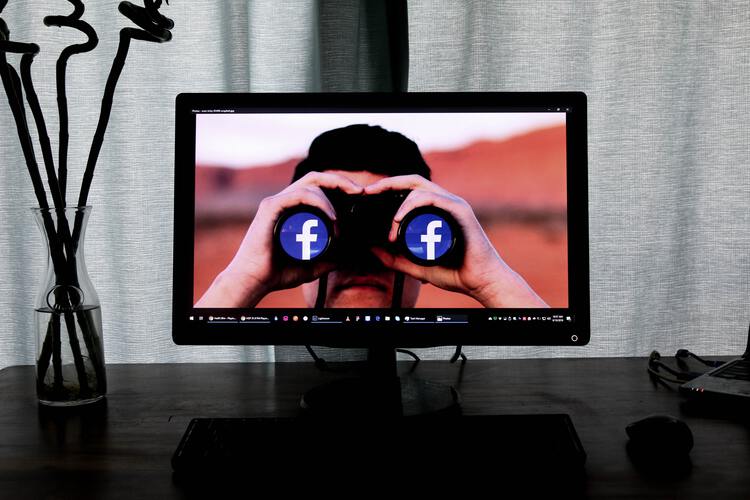 Skip The Intro – Get To The Point
One of the most important steps that you can take toward optimizing your Facebook videos to drive engagement revolves around skipping the intro and getting right to the point. In a widely quoted research Tropicana conducted for video engagement on Facebook, the optimal duration for a video ad was 6 seconds. For quick engagement, focus on getting the key facts across in the first few seconds, and limit the total duration to a minute or two.
Remember, your viewers are simply scrolling through their feed, a long and drawn out introduction will certainly push them to scroll right on by your video. Instead, keep things simple, clear, and concise. Begin your video with a statement that gets to the point right from the start. This will help to draw viewers in from the moment your video starts playing.
For maximum engagement, we suggest creating a very short teaser video, and using it to announce a longer video for interested viewers. Facebook feeds allow videos up to 2 hours long. In-stream videos and stories can only be up to 2 minutes long, though.
Add Captions To Facebook Videos
Not everyone scrolling through their Facebook feed is in the position to watch a video with sound on. With that in mind, it is always a wise idea to include captions in your Facebook videos. This ensures that even those viewers without headphones or without an ability to listen to your video in their current environment can still get the gist and find some value from the content.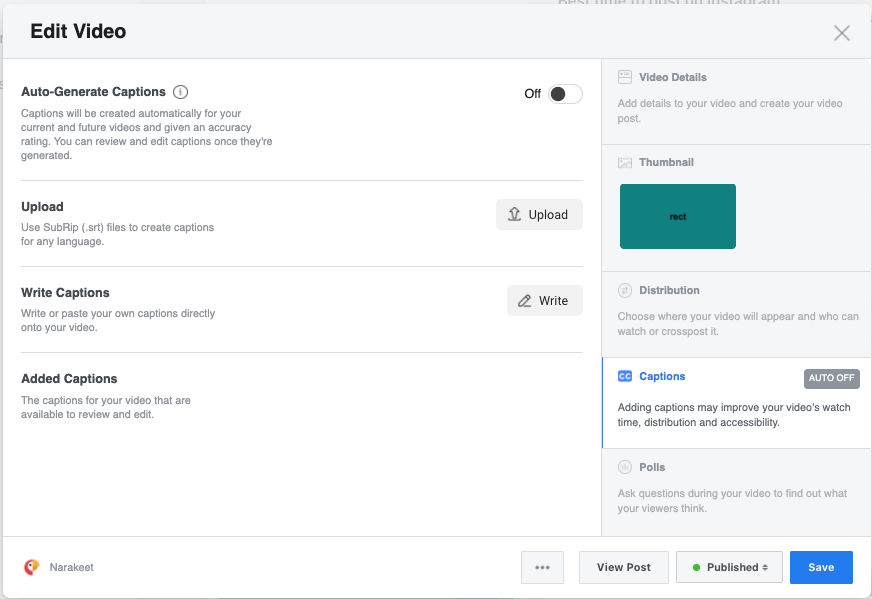 There are several ways to include captions into Facebook videos. One is to let Facebook generate the captions directly from your audio. This is great for voice-recorded audio when you do not have the script at hand, but it's not guaranteed to be correct – especially for some tricky domain-specific phrases or acronyms. The other is to upload a SubRip (SRT) file, containing captions. Narakeet can automatically generate SubRip files for you, from the script. Check out our guide on How to add subtitles to video for more information.
After uploading the video, check the captions tab on the right hand-side of the video editing dialog. That tab will enable you to turn on automatic captioning, or upload your own file.
Narakeet can also create a version of your video with subtitles burned in – always showing on the screen. This means that even if the client device does not support subtitles on videos, or the users mistakenly turn subtitles off, your text will show. The downside is that the burned-in captions can only be in a single language. With SRT files, you can upload captions for different languages, and let your user choose the best option.
What's the best format for Facebook Videos?
According to Statista research in 2020, 37% of Facebook users in the US watch videos in their feeds. Facebook leads among social networks by mobile engagement: 62.5% of users who installed a mobile Facebook app use it daily.
Smartphones are the key to engagement for Facebook videos. Think about this when deciding on video orientation. Do you want your audience to watch videos in portrait – with their phones standing straight up – or landscape, where they would turn the phone to the side to get a wider field of view. While landscape orientation might give you a larger view of the scene, it shows up small and constricted on users' Facebook feeds. Instead, try to stick with portrait orientation to ensure that your Facebook videos are mobile-friendly. Another option is to make square videos - they will not fill up the screen in either orientation, but they will look nice in both.
To get started easily, check out our page on recommended video sizes for various platforms, including the templates for Facebook videos all three recommended Facebook aspect ratios.
Make The Move To Go Live
If you're really trying to generate engagement, one of the best ways to do it is to go live. Today's Facebook users love to see influencers and other internet personalities go live because it gives them a chance to connect with them on a personal level. When you do decide to go live, make sure that you have a good session planned out, so that when your followers join your live video, they can see a clear structure that will hold their attention.
There are two ways to stream a live Facebook video. For amateur content, broadcast from your phone, tap the Live button at the bottom of the post composer in your Facebook mobile app, then tap "Start Live Video". For professional content, use a dedicated camera with recording software, and the Facebook Live Producer.
When running a live session, make sure to announce it upfront. Narakeet can help you build templated announcement videos quickly, and engage your audience before the live event.
Don't Forget Your Call To Action
Last, but certainly not least, is the call to action. You simply can't – or shouldn't, at the very least – publish content that doesn't compel your viewers to complete an action. Even if it is as simple as liking your page, liking the video, resharing it, or visiting your website. Your goal with Facebook videos is to generate engagement and build a following, and your CTA will help you do it. Include it in your video copy, at the end of the video through a text overlay, or as part of the voice over.
cover photo: Glen Carrie on Unsplash