Making Videos For LinkedIn: Key things to know
Video can be a very powerful amplifier for LinkedIn engagement. However, with it's more professional aesthetic and user base, LinkedIn requires different video content from informal social media. In this blog, our resident experts provide tips to help you make clear, compelling, and engaging video content for your LinkedIn profile.
You can use LinkedIn to generate engagement and awareness amongst your network. Additionally, you can use it to build your expertise, your credibility, and your identity as a professional – but only when you know how to make LinkedIn videos the right way.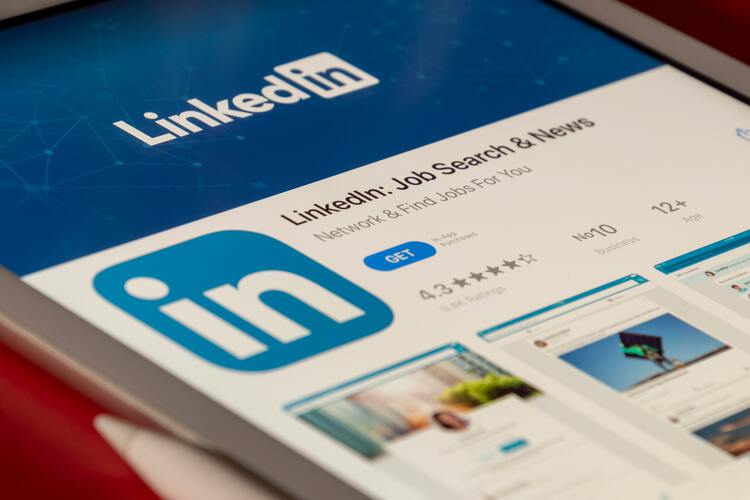 Optimise for small screens
LinkedIn engagement is largely on mobile devices. A LinkedIn blog post from 2016 is widely quoted on the internet showing that more than half of engagement happens on mobile, and this was five years ago. In 2017, the same blog revealed that 91% of their users access the application from a mobile device. It's safe to assume that the numbers today favor mobile platforms even more.
Avoid things that are difficult to read on a small screen, such as screenshots or slides with a lot of text. Use the video for motivating your audience to read detailed content somewhere else.
Live or pre-recorded?
LinkedIn offers you a variety of formats to choose from. You can livestream, which can certainly be quite engaging and compelling for your network. On the other hand, you can publish more rehearsed and scripted videos that revolve around discussions, theories, experiences, etc. The sky is the limit, and that's one of the most exciting aspects of LinkedIn and social media as a whole.
The success strategy, as always, is in finding the right mix. Live content is more difficult to produce and requires careful timing. Pre-recorded content can be automated and posted at different times, to grab the attention of your brand audience. LinkedIn claims that live-stream videos create 7 times more reactions and 24 times more comments than pre-recorded videos. So think about doing some live-streams occasionally, followed by a bunch of pre-recorded content for maximum effect.
One of the best places to start is to see what's already out there. Take a long, hard look at the type of video content your competitors are posting on LinkedIn. What is their style like? What is the format? Are they tutorials? Are they podcast-like videos? Explainer videos?
From there, take a look at engagement. Are they getting comments, discussions, likes, or shares? This will help you determine if they're taking the right approach and if so, if you should mimic it.
Create a compelling cover image
When it comes to social media, video is the type of content that drives engagement, but video doesn't play automatically for people scrolling through a flood of updates. Powerful visuals will likely catch your audience's eyes. Marketing videos usually spend the first few seconds on a branded intro, but this leaves you with a generic cover image, and all your videos will look the same. LinkedIn lets you add a custom cover image (they call this option "Select Thumbnail" when publishing a video). Make it unique, appealing and motivate your audience to click "Play".
Focus on relatively short content
LinkedIn videos can be between three seconds and 10 minutes long. Just because you have 10 minutes available doesn't mean that you should use them.
In a widely quoted research Tropicana conducted for video engagement on Facebook, the optimal duration for a video ad was 6 seconds. Your videos may not be ads, and LinkedIn is a different platform from Facebook, but this is a useful reference for how short the attention span is for people scrolling through posts on social media.
LinkedIn recommends capturing attention in the first 10 seconds. For maximum engagement, keep your total video duration less than half a minute. (The same post contains a reference study by LinkedIn, which claims that videos under 30 seconds reported a 200% increase in view completion rates).
Ensure your video has subtitles
When it comes to people watching videos on LinkedIn on mobile devices, only 37% will have sound on. Capturing attention with bombastic sound effects may work for other social media, but not on LinkedIn. Here, subtitles are absolutely critical to get any kind of engagement with your video content.
Unlike YouTube that can generate subtitles from your audio, LinkedIn requires you to upload your own subtitles.
Narakeet can help you provide subtitles in two ways. First, you can generate subtitles directly from the narration (including the SRT format required by LinkedIn). The second important way is that Narakeet can create a version of your video with subtitles burned in – so even if the client device does not support subtitles on videos, or the users mistakenly turn subtitles off – your text will show. Check out our guide on How to add subtitles to video for more information.
Choose the right video format
LinkedIn officially supports videos from 256x144 to 4096x2304, with an aspect ratio of 1:2.4 – 2.4:1. The 2.4:1 aspect ratio is a bit different from the usual 16:9 videos for other platforms, and you can make your videos stand out by using the full format available. We recommend the resolution 1728 x 720 to fit into their 2.4:1 ratio.
Focus on current affairs
Lastly, we have perhaps the most important tip of the article. You need to ensure that the videos you publish on LinkedIn are relevant. They need to address a current conversation, a current hot topic, or a current pain point that your network is experiencing. When it comes down to it, your followers simply won't respond to content that isn't relevant to them. This means that it's up to you to remain up to date and in tune with everything happening in your field – especially on a more professionally-driven social media platform like LinkedIn.
Start Creating
And with that, you have three useful tips to help you get started. Remember, LinkedIn is a powerful tool that you can use to help you grow your following, and with the right video content, you'll be surprised how quickly you can grow your network. For a step-by-step guide on how to make a video for LinkedIn using Narakeet, check out guide How to make video for LinkedIn.
cover photo: Souvik Banerjee on Unsplash