Voice Over Video: key things you should know
Voice-over is the process of recording spoken words to be played back on radio, television or during online videos. Voiceovers are often used for ads, animations, cartoons and video games, and increasingly now for online slideshows and videos. There are many ways to create a voice over, from recording your own voice, to paying a professional voice artist, or using text to speech video makers. In this article, we'll explain the key elements of good voice-over, so you can make your content appealing to an audience.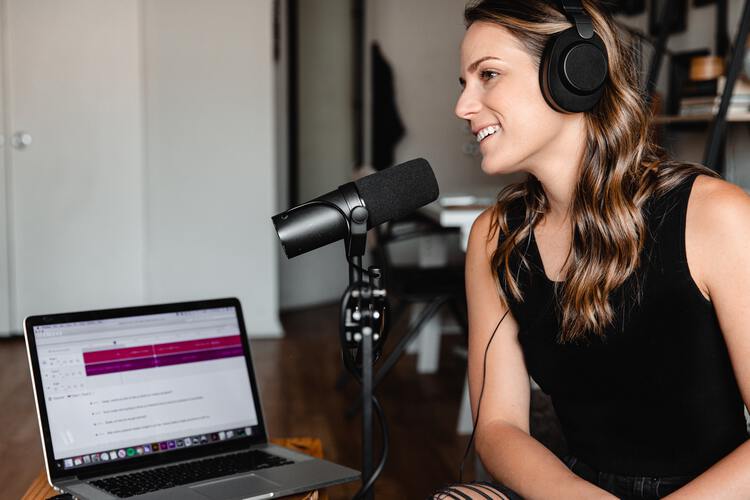 Why do you want to put voice over in a video?
Perhaps you want to voice over a training video and make it available in multiple languages. Or, maybe you're making marketing videos for your products. Videos with voice-over have more power to engage and persuade your audience because voice makes a video more personal. The voice of the narrator influences how people perceive your business videos, ads, or other online content.
Back in the days, creating good voice-over was really expensive. You needed to hire professional voiceover talent, record the audio and then edit your video to make it perfect. Today, you can create voice overs easily even if you don't have the budget or resources to hire voice-over talent locally.
There are many voice-over tools that you can use for free or at a very low cost - right from your own computer! Narakeet is one of them. It's not only convenient but also affordable (unlike professional voice-over services) because it allows users to create high-quality audio recordings without leaving their workspace. You don't need any studio equipment or software. All you need is access to our website.
Test the flow for your script
Start by writing a script. Put some great words on paper. Have someone else read your script and make sure it flows well. Alternatively, use Narakeet to preview voice over script quickly. Listen to parts of your script, and eliminate all unnecessary words. Make sure the flow of ideas is logical and that the content is clearly explained. It's important to test the flow first, and automated tools can be great for this purpose even if you intend to later record the audio using a professional voice actor.
Once you have written a good script, it's time to convert it to voice-over. You can do this by recording the audio yourself, or by using our text-to-speech tool to convert a Word document or a text script to an audio file.
If you are recording the audio yourself, instead of using a text-to-speech voice generator, but we suggest that you create at least three versions, and compare them. Sometimes it's worth first doing a low quality recording to check the audio/video synchronisation, then creating a high quality version will be used in commercial projects or made available on iTunes or Google Play Store if they're video ads. This way you'll ensure that all your voiceovers are great!
If you are using Narakeet voices, then you can also use our tool to automatically synchronise picture with sound, and speed up or slow down video materials to match the duration of the narration. Narakeet voices can read out the text from a Word document, PowerPoint, or Keynote presenter notes.
Voices add an audio brand
Every voice is unique and has its own voice and character. When you voice over a video, the voice adds an audio colour to it that can help your brand or business stand out from among other competitors in the market. For example, female voices are usually softer and lighter than male ones (although, of course, there are exceptions).
In voice-over, the voice speaks directly to your audience. It's a one-way conversation, so it's important to keep the listeners in mind if you want to engage and influence them. This is important to choose the voice tone and style of speaking.
The target audience could be very tricky for voice-over because there are so many factors that influence it. If you're not sure who exactly your audience is, start by defining the demographic group - age, profession, interests, etc.
Voices also influence how people perceive messages in your videos: speaking with authority is better for educational videos, while an enthusiastic tone of voice appeals better to younger audiences. People pay attention if there's an excited person talking about something interesting. Therefore, using excited tones in presentations may be really effective for some businesses like the entertainment industry (e-commerce).
If you want to use a professional voice artist, get a few of them to read out a sample of your script, and compare them to hear which one is the best for your brand. If you use text-to-speech voices, then it's very easy to get several voices to read out the same text. Compare at least a few male and female voices before choosing one to use for the main message. Narakeet has a versatile range of AI voices to choose from including adult male and female voices in different languages, and even some child voices.
Human voice or text-to-speech?
Before scripting the voiceover it's good to ask yourself what exactly do you want to achieve. Is it about how the voice sounds or is there a certain message that needs to be delivered in such a way so as to grab and keep people's attention?
Should the voice tone be lighthearted and fun for an online commercial ad or serious and professional like in a business presentations? If you need a voice-over with lots of emotion, jokes or playfulness, it's best to get a professional voice artist to record it. If the content is mostly informational, then a text-to-speech voice will do an excellent job. AI voices now sound almost human, but they cannot convey emotions yet.
If you're not sure what kind of voice will work best, we recommend trying several different styles until you find one that fits your needs. Record a few of these yourself. They do not have to be very high quality, but trying out various styles first on a small sample will help you save time later.
Define the goal and start thinking about particular voice qualities that will help you accomplish it.
Convert script to voice over easily
Narakeet has a text-to-speech feature that can convert any voice-over script into an audio file or a whole video project.
If you have a voiceover script in your document and want to read it out loud without hiring voice actors, try it for free and get the sense of it!
All you have to do is to put narration text into presenter notes of a Powerpoint file, or into a Word document. Advanced users can also assemble videos from Markdown scripts with assets (MOV, MP4, WMV, AVI, and MPEG videos, JPG, GIF, and PNG images or WAV, MP3, WMA, AAC, and M4A audio).
And the best part is that you can change the script in the future easily and upload the document again.
Voice-overs are a great way to add emotion and personality to your videos, whether for education or marketing.
Cover photo by Soundtrap on Unsplash