TikTok Maker
Create professional videos quickly using our free TikTok video maker. Make a Tiktok Video with pictures and music, create a voiceover using our natural text to speech and automatically add big captions/subtitles from the voiceover.
Tiktok Video Maker
When using our Tiktok video generator, AI voices help you quickly and easily make an impressive video, without the need to record your voice or have professional audio equipment. You can use 600 voices to make voiceovers in 90 languages. Narakeet will automatically synchronize picture and sound, resize images, generate captions from your audio, and even mix background music into your video. Save time by letting Narakeet do all the boring and difficult tasks so you can focus on the content.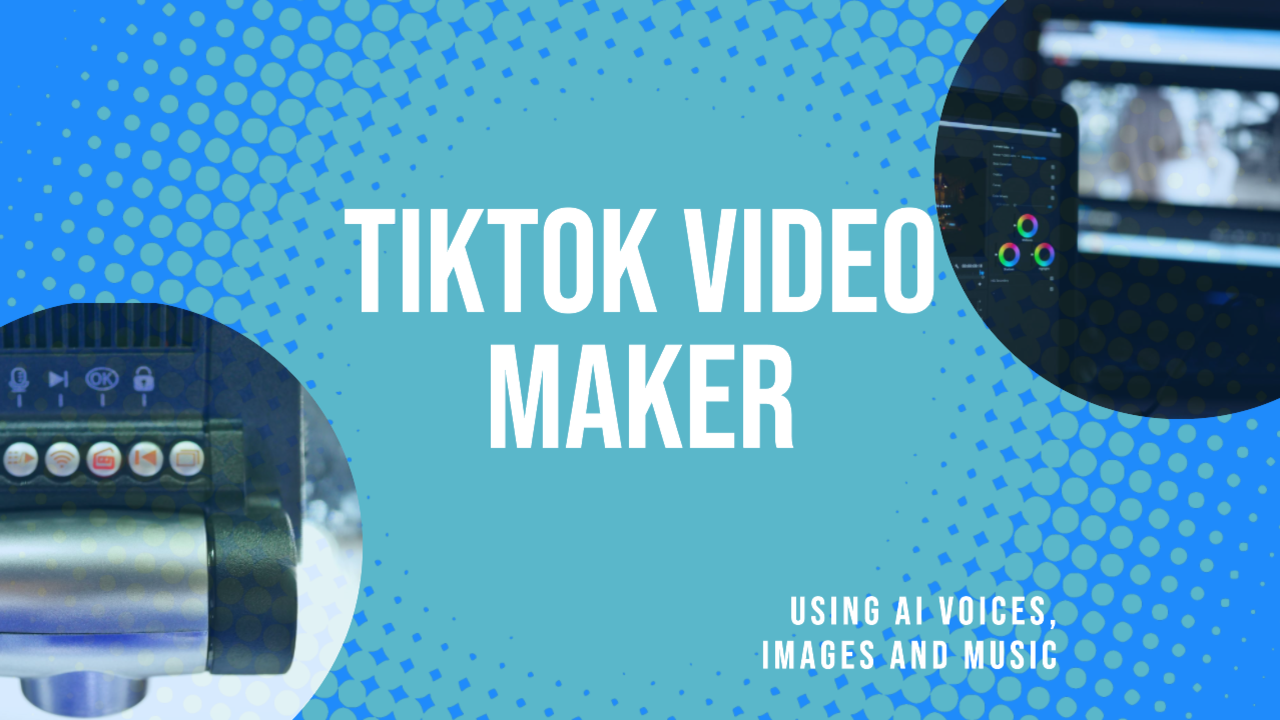 How to make a Tiktok Video with Pictures and Music?
Make a Tiktok video with pictures and music easily using our Presentation to Video tool.
2
Add images, videos or text to your slides.
3
Add the voice-over text in presenter notes
4
Upload your Powerpoint to our Presentation to Video tool to convert the slides into a MP4 video, ready for TikTok
It takes only a few minutes, and you can easily generate lots of similar videos by tweaking the slides.
How to do better captions on TikTok?
Narakeet can automatically add big captions in the middle of the video frame, creating the effect that popular Tiktok videos use. This can save you a lot of time when generating Tiktok videos automatically. After you upload the presentation, click "Edit settings", the click the "Subtitle" box, the select Tiktok closed captions setting.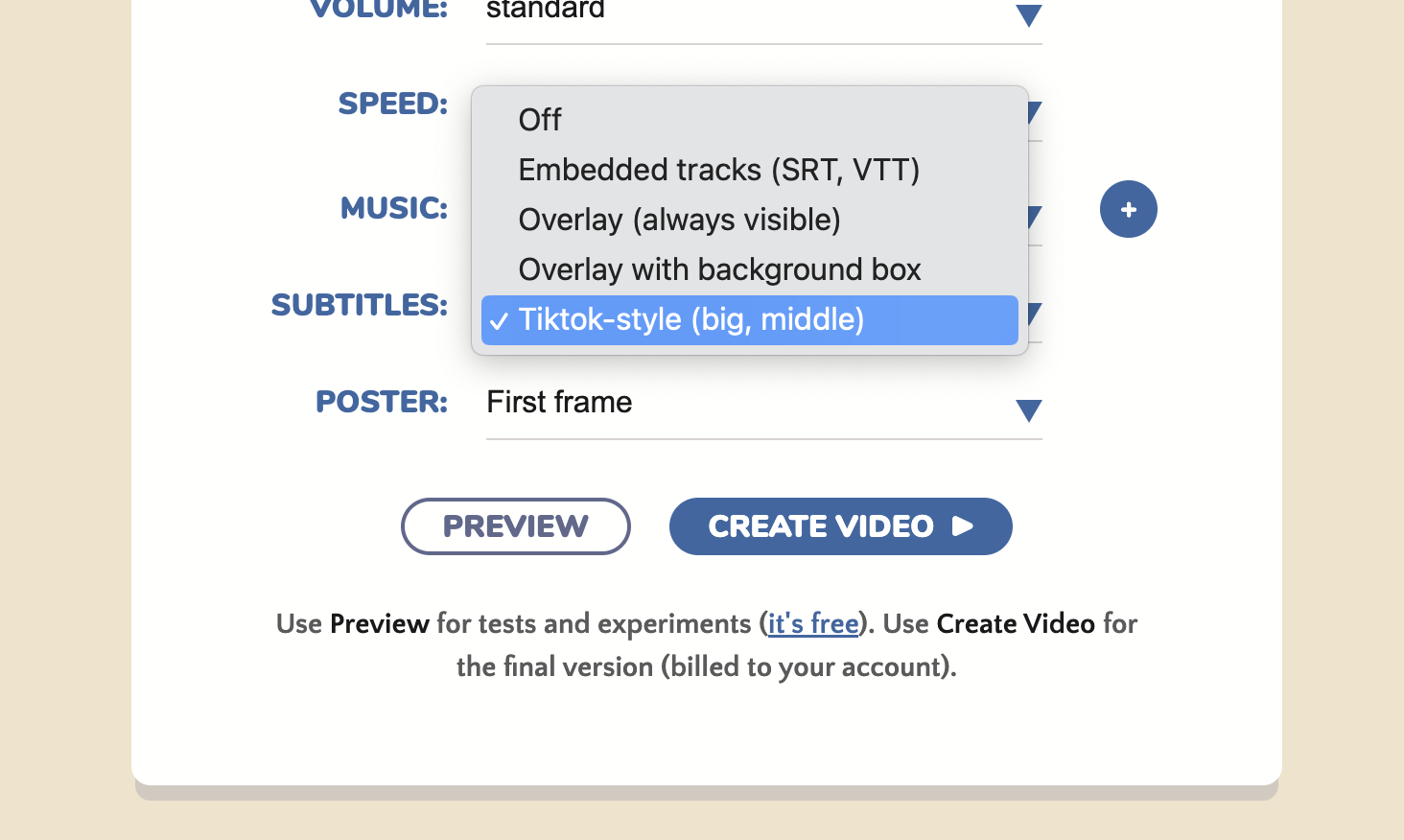 How To Add Pictures on Tiktok Video With Slideshow?
Turn any slideshow easily into a Tiktok video. Start by adding pictures into a presentation, and make sure to set the slide size to at least 1080x1920 pixels - this should be 15.0 x 26.67 inches, or 38.1 x 67.73 centimetres. (See our guide on Slide Sizes for more information on slide sizes for popular video formats). You can also get our TikTok template that already uses the best size for Tiktok video.
Add voiceover to your video by typing the narration text into presenter notes.
Upload your Powerpoint to our Presentation to Video tool to convert the slides, then choose the voice from our selection of 600 AI voices in 90 languages. Click the "Create video" button to make a tiktok video, and then "Download" button to download it to your device. You can then publish the MP4 video on TikTok easily.
What program to use to make TikTok videos?
Use Narakeet to quickly make TikTok videos. There are three options available:
Quickly turn pictures and music into a TikTok video, using our Presentation to Video tool. This is best for beginners. It will allow you to generate TikTok from your videos (just embed them into a slide) or images and text, with realistic AI voice generators in 90 languages.
You can use our Markdown to Video tool for advanced templating and scripting, with advanced controls for audio, video, subtitles and more. This is great for power-users who need more control.
Use our API to template and automatically generate videos for TikTok, speeding up the creation of TikTok videos from your video and audio materials.
How can I create a TikTok video?
The easiest way to create a Tiktok video is to record it using the Tiktok app, but that requires showing your face and using your own voice, and every time you create a video you need to do everything all over again.
With Narakeet you can start with images or video clips, and use our automated voiceover feature to record audio. Use a Powerpoint template or script the video fully to make a series of similar videos easily, and save a lot of time when making follow-up videos and responses in the future.
After you upload the video to Tiktok, explore effects, filters, and sound options to enhance your video. Add a description, hashtags, and set privacy preferences before posting. Engage with viewers and respond to comments. Keep experimenting with trends, creativity, and unique content to gain traction. Remember, it's about fun and expression.
If you want to make lots of similar videos, or use your own templates, explore our Markdown to Video tool, which allows you to automate tiktok video creation, build videos from the same materials for many social networks, and use advanced controls to customize every aspect of your video automation.
Can you make TikTok videos for free?
Yes, Narakeet allows you to make free videos. You don't even have to register.
Get started with our AI tiktok video generator free. Create 20 videos free, then select one of our paid plans to continue making videos. Our paid plans allow you to create entire audiobooks at once, batch-produce thousands of audio files at once, and a lot more.