Preview presentation voice-over
Narakeet makes it easy to experiment with videos, but waiting several minutes to hear the effects of a small change can be tedious. Check for typos and small mistakes by previewing the narration before building the full video. This lets you test scene voice-over in slightly lower quality, but much faster and cheaper than building the whole video.
Audio previews are free. At the moment, this feature is only available to commercial users to prevent abuse. To create previews, you will need to an active organisational subscription or a personal account with a positive credit balance. For more information on how to set up a commercial account, check out our pricing page.
There are two ways to preview audio.
Directly from Powerpoint
Using a "text to audio" project type
The first option lets you test how Narakeet loads your Powerpoint file, see the visuals, and hear the text from the speaker notes. It is great to try out the presentation before converting powerpoint to video, but experimenting with different scripts requires uploading a new presentation file.
The second option lets you try out variations in a script quickly, as you can edit and update text directly in Narakeet, without having to upload another file. It does not, however, let you test the visuals at the same time as text.
For best results, you can combine both options. To experiment with text and voices, use the "text to audio" project type for previews. Once you are happy with the pronunciation and the chosen voice, load up the Powerpoint in preview mode for a final check.
Previewing directly from Powerpoint
Click the Edit Settings button after uploading the presentation. Choose the appropriate language and voice, then click the Preview button at the bottom of the dialog.

Narakeet will load the presentation in preview mode, showing individual scenes. You can use the "Play" button above the slide to quickly create the narration audio, and play it back.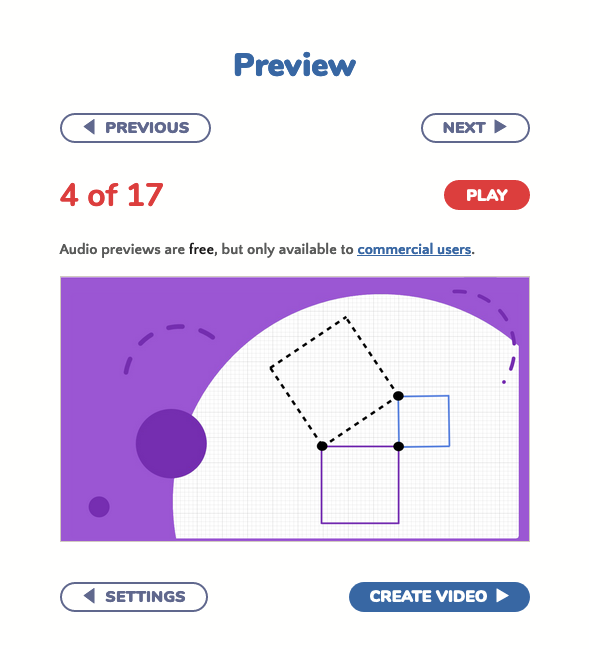 Previewing with text-to-audio projects
After signing in, select the option to create a new audio file from a script. This lets you test voice options in seconds instead of waiting for large files to upload and process.
Enter some text into the script field, and click the preview button. Highlight just a part of the text to preview a section of the script.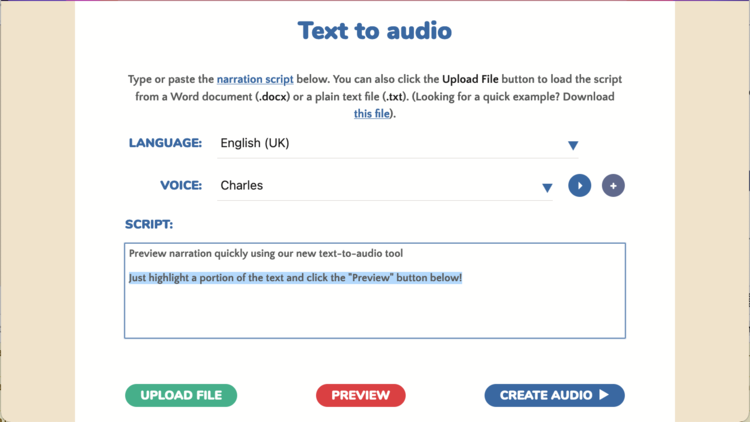 For more information on this tool, check out the lesson on how to Test text-to-speech.