Text To Speech Video Maker
Edit videos as easily as editing text with Narakeet, a text to speech video maker. You can turn a Powerpoint presentation into a great narrated video in minutes, without having to record your voice. This means that you do not need professional audio equipment, a quiet room, or a teleprompter.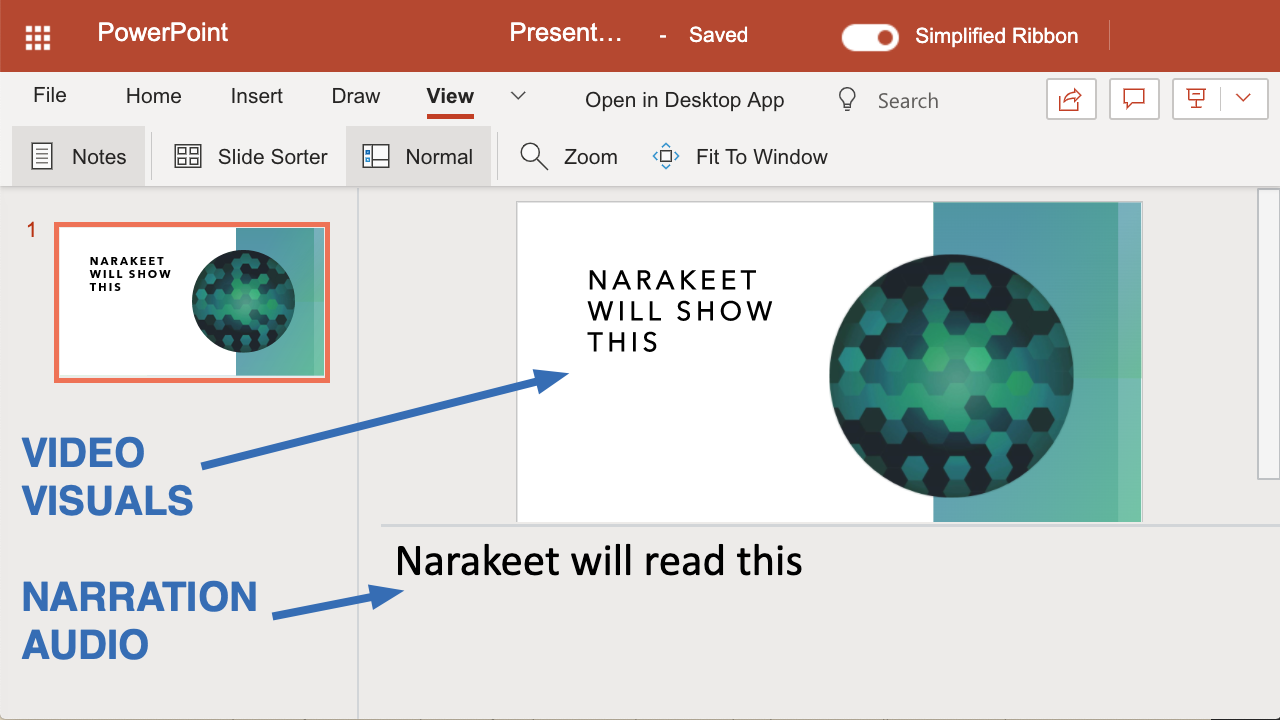 Type the text you want the narrator to say into the presenter notes of your slides, and Narakeet will create a life-like audio track for your video using latest generation neural text-to-speech voices. With a large menu of virtual voice actors to choose from (700 voices in 90 languages), you can easily create marketing videos, video lectures, quizzes and narrated slide shows. And the best thing is that you don't even need video editing tools or experience. Just create a presentation!
Make text to speech video online
Play the video below to see a quick sample. It shows how to make nice videos from presentations using our human-like text to speech voices, and it is of course build using Narakeet.
Want to learn more? Try Narakeet now by making a video from PowerPoint. You can create 10 videos free (no account required). To learn more, check out a set of quick lessons on how to make text to speech videos from presentations easily.
Frequently asked questions about our text to speech video maker
Here are some of the things video makers want to know quickly:
Can videos be used commercially?
Yes, of course. There are no copyright or commercial restrictions on any of the text-to-speech voices we provide. You fully own the copyright to any materials you produce, and you can do whatever you want with them.
How to test voices?
You can play pre-recorded samples of all our voices from the Text to Speech Voices page. You can try out your own samples without even creating an account by using our Text-To-Speech audio project type. It lets you convert word documents and text snippets directly into audio files in seconds.
Video narrator languages
Create videos easily in 90 languages, with almost all major European languages (English, French, German, Dutch, Spanish, Swedish, Russian and many more) and many Asian languages (Chinese, Japanese, Hindi, Korean, Malaysian). Many languages support regional variants, such as various English accents (American, Indian, British, Australian, New Zealand), Brazilian Portuguese, American Spanish, TW Chinese, Belgian Dutch and many more.
How to create subtitles for videos?
To reach a wide audience, we recommend you add a subtitle track to videos you create. This will enable viewers to watch the video in a noisy environment (for example on public transport) without headphones, and it will also help you reach users who are hearing impaired. Many social networks block audio on videos by default and require users to explicitly turn the audio track on, so the subtitles and closed captions will also help you engage social network users better.
Because Narakeet turns text to speech, it can use the same text to automatically create the closed captions and subtitles for you - you do not need to transcribe the audio again and risk small mistakes. Narakeet lets you create SubRip (.SRT) and Web Video Text Tracks (.VTT) subtitle files easily. Most online video platforms will allow you to upload subtitles in one of those two formats. Alternatively, you can also burn the subtitles onto the video, making them always visible.
Can I share text-to-speech videos online?
Sure. Narakeet creates a MP4 video file compatible with YouTube, FaceBook, LinkedIn, Twitter and almost any other video sharing platform. You can download the video to your disk after creating it, and just upload to any online sharing platform.
Please note that Narakeet is not a video sharing platform, it just helps you create narrated videos easily. The download links are valid for 24 hours only, so you should not share them directly with your audience. Instead, put the video somewhere more accessible.
Where to find more information?
Check out tutorials and guides for more quick lessons, information on how to do basic tasks, and quick guides on how to make the most out of text-to-speech voices.