Turn PowerPoint Into Video with Text to Speech
Narakeet is a slideshow maker with voice over, and makes it easy to turn presentations into videos. Convert PowerPoint slides into narrated videos with voice-over, in 90 languages, using 600 voices.
Get started with our 600 text to speech voices free online. No registration required.
Turn this...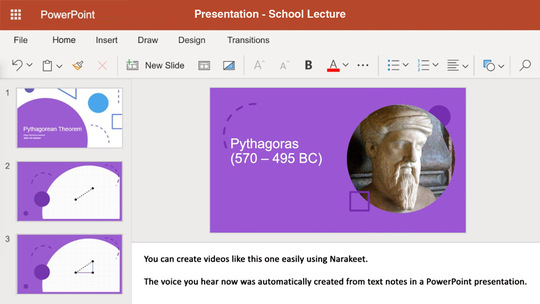 Download demo slides
New to Narakeet? Do this in the first 5 minutes!
Narakeet makes editing videos as easy as editing text. Try it out now: download the source presentation for the demo video, edit the presenter notes, and upload it again. Or just upload one of your existing presentations with speaker notes.
The best format to upload is Microsoft PowerPoint (PPTX), but Narakeet can also load PPT, PPSX and ODP files.
If you use Google Slides, just select File ⮕ Download ⮕ Microsoft Powerpoint from the application menu to produce a PPTX file.
Apple Keynote users: save the presentation using File ⮕ Export to ⮕ Powerpoint to create a PPTX file.
Turn powerpoint into video
Make a slideshow with music easily, turn your slides to a video lecture and turn text to voice and using these 5 easy lessons
Text to voice
Make the most out of our natural sounding text-to-speech with these quick tips:
Make more engaging videos: in-depth guides for advanced users
Need more information?