Read Text Out Loud
Welcome to our cutting-edge text to speech reader platform, designed to revolutionize the way you interact with text! Imagine having any written content read to you with a natural reader that has the power to make the words come alive. Our text to voice technology can speak from text in Word documents, PDF files, EPUB ebooks and many more formats. Online text to speech is an essential tool for today's fast-paced world, and Narakeet supports 90 languages, with 600 voices.
One of the primary advantages of "text to talk" is its ability to save you time. Turn any Word or PDF document into an audiobook just for you. By using our text to voice generator, users can effortlessly have any text read out loud to them. Listen to your favorite articles or documents while you're on the go or engaged in other activities. Experience the transformative power of our text to speech reader today, and discover the incredible benefits for yourself.
Turn this...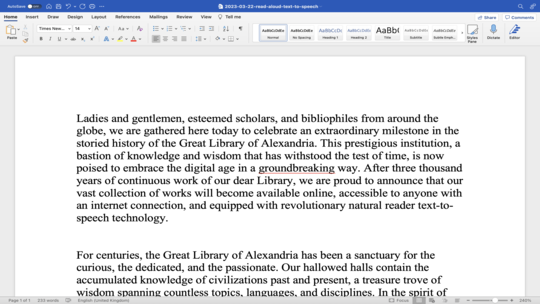 Download document
Read To Me
2
Choose between 600 natural readers in 90 languages
3
Click "Create Audio" and let Narakeet do its magic
Narakeet will generate voice from your text, read aloud, and in a few minutes, you'll be able to download a MP3 or a WAV file that you can listen to in any audio player.
Text To Speech Free Download
Read aloud text easily. Get started with our text to voice generator free. Make 20 voice reader files free, then upgrade to a paid plan to make more text to voice files. Paid plans provide more capacity than free accounts, so you can read out loud text from larger documents, but even on the free plan you have access to all our 600 natural reader text to speech voices, that can read out loud in 90 languages.
Read Aloud Text
Text to speech technology has come a long way, and its applications extend far beyond medical assistance and supporting disabled users. With the evolution of text reader software and the rise of natural reader voices, users can enjoy the convenience and speed of content creation across various industries and purposes. Narakeet is an app that reads text, and here are some typical use cases for our online text to speech:
Listen to course materials
One popular use case for text to speech technology is the TTS reader for learning and education. Students can utilize a text reader online to listen to course materials, which can increase comprehension and retention of information. The ability to have a text read naturally means that learners can immerse themselves in the content while performing other activities, such as exercising or commuting.
Turn any article into a podcast or audiobook
Another area where text to speech shines is in content consumption. Use Narakeet as an essay reader, and listen to long-form articles and blog posts, making it easier to absorb information without straining their eyes or spending extended periods reading. This can be especially useful for busy professionals who want to stay up-to-date with industry news, but have limited time to dedicate to reading.
Sentence reader
Text to speech technology can be a valuable asset for language learners. By using a tool that can speak a text, users can practice their listening skills, improve their pronunciation, and familiarize themselves with the nuances of a foreign language. This interactive approach to language learning can be more engaging and enjoyable compared to traditional methods. Narakeet can read text in 90 languages, making it a perfect language learning companion.
Read this to me
Authors and editors can leverage our online text reader as a "read my text" tool, to to proofread and review their written work more effectively. Listening to the text being read aloud can help detect errors, inconsistencies, or awkward phrasings that may have been overlooked during silent reading. This can lead to higher-quality writing and a more polished final product.