How to make video for Pinterest
We added three new size presets that make it easy to create Pinterest video Pins using Narakeet.
Create a Pinterest video using a Powerpoint presentation
Start by making a PowerPoint with slides or embedded videos for your Pin.
Step 1: use a big slide format
To make sure your video looks great, use a large Powerpoint format (see how to resize slides. For best results, use the same proportions as the Pin you want to create. Pinterest recommends 2:3 aspect ratio for standard pins (720x1080 pixels, or 1000x1500 pixels), and square or 9:16 proportions for videos at standard width (720x1280 pixels).
For information on how to set the size of your slides, and a template PowerPoint presentation in the right format, check out our guide Select the best video size.
You can also use the standard presentation format, and Narakeet will automatically resize your slides. Make sure your presentation is at least 1000 pixels tall for best results, otherwise the images might look blurry.
Step 2: Add narration and stage directions.
Add narration to speaker notes, so Narakeet can work its magic and create a voice over track. Check out the Add voice to video guide for information on how to add pauses, emphasis and control pronunciation.
Step 3: (Optional) Embed fonts
For best results, embed fonts into your document before uploading to Narakeet. This will make sure that the text is displayed in your video exactly as it is on your screen.
Step 4: Upload the presentation
On the Narakeet homepage click the "Create a Video Now" button, then select "From a presentation". Upload your Powepoint file.
Step 5: Choose the Pin size
After uploading the presentation, select the "Edit settings" option: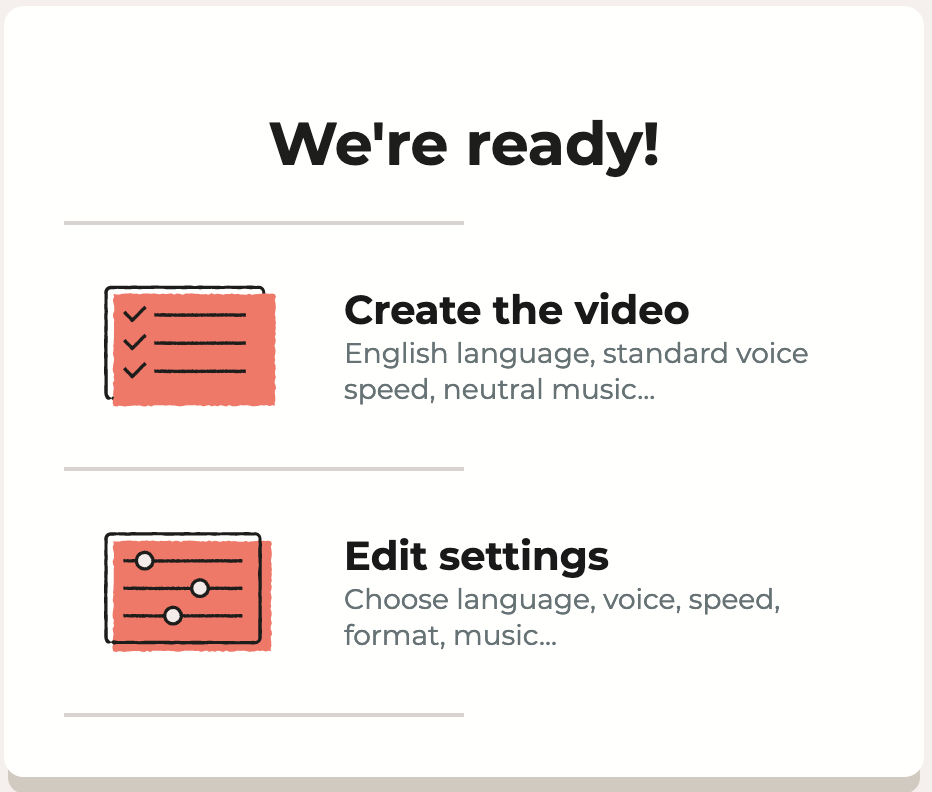 In the settings dialog, select one of the new Pinterest sizes from the "Size" dropdown.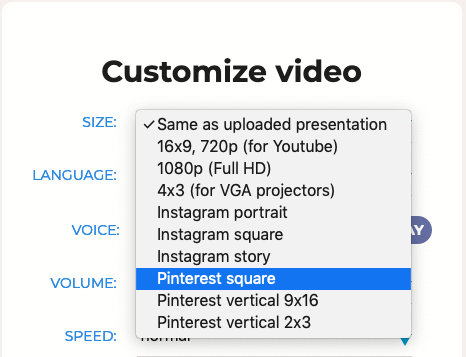 A new option will show just below "Size", called "Slides". If your PowerPoint presentation uses different proportions from the target video (for example, if you are making a square Pinterest video from a wide-screen Powerpoint presentation), Narakeet will automatically resize and center the content. You can select how Narakeet resizes your presentation in this drop down. Check out the Adjusting Slide Size guide for information on the sizing options for slides.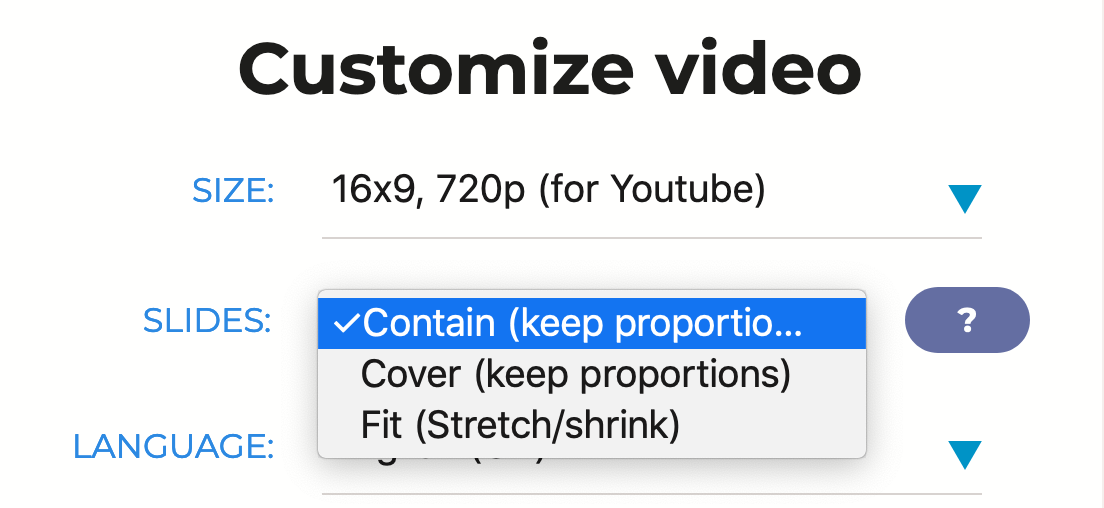 Step 6: Download your video
Select the other options, such as the voice or narration speed, then click the "Let's Go" button. In a few minutes, you'll get a video, ready to upload to Pinterest. Click the "Download" button to get the video in the MP4 format, ready to upload to Pinterest.
Create a Pinterest video using a script
To create a Pinterest video from a script, just set the size header to one of the following presets:
pinterest-square: optional format for Pinterest square pins
pinterest-vertical: optimal format for Pinterest 9x16 vertical pins
pinterest-2x3: optimal format for Pinterest 2x3 vertical pins
For example:
---
size: pinterest-square
---

![](intro-image.png)

This script will create a square pin

Check out the size format reference for more information.