250 text-to-speech voices now available
Adding 60 new voices, Narakeet now has one the largest collections of neural text-to-speech generators, making it easy to create video voice overs and audio narration with 250 vocals in over 40 languages and regional dialects.
Narakeet is a text to speech video maker and this week's update significantly expands the support for regional variants and dialects, so it will be especially useful for teachers around the world, and content creators who want to tailor voice-over narration to local audiences.
This update brings support for English variants including South African, Irish, Nigerian and Filipino voices; French with Swiss, Canadian and Belgian dialects; Spanish with Mexican and Puerto Rican variants and improved Brazilian Portuguese. Those who make content for younger audiences will also like a new child voice. With the recent addition of Swiss German and New Zealand English, Narakeet now has a rich collection of local dialects in many popular languages.
We've also added several amazingly sounding English, Castilian and American Spanish, French, Portuguese, Japanese, Danish and Italian voices.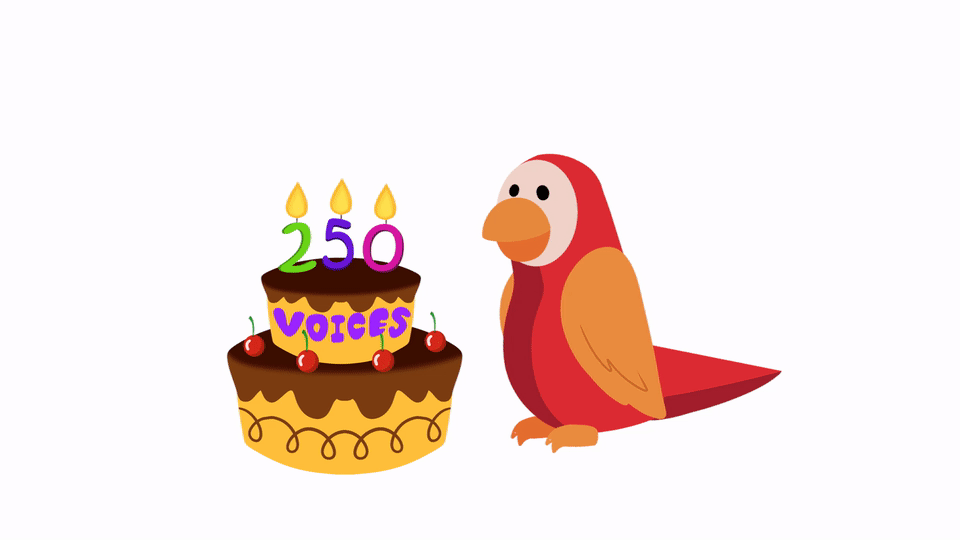 All Narakeet voices are based on neural networks, so they produce high quality results very similar to natural human speech. Some of our competitors may offer a larger list of options, but they include older technology which cannot mimic human speech, and often provide the same voice with different regional variants. Narakeet does not reuse voices across local variants, so each voice is truly unique. Check out our guide on how to make the most out of text to speech for information on how to get the best results out of the new voices.
To hear the new voices, play the quick audio samples on our Text to Speech Voices page; or test the voices with your own script. The new voices are available to all existing and new users at no additional cost.
Here is the full list of new voice-over options:
English
Bonnie (American - Child voice)
John (American)
Will (American)
Matt (American)
Morgan (American)
Eddie (American)
Jodie (American)
Debbie (American)
Nancy (American)
Linda (American)
Kim (American)
Lucy (American)
Beverly (American)
Amber (American)
Ashley (American)
Rosalind (British)
Edward (British)
Victoria (British)
Charlize (South African)
Aletta (South African)
Piet (South African)
Cillian (Irish)
Saoirse (Irish)
Elma (Philippines)
Manny (Philippines)
Obinna (Nigerian)
Thandiwe (Nigerian)
Judy (Australian)
Graham (Australian)
Keith (New Zealand)
Brooke (New Zealand)
Neerja (Indian)
Prabhat (Indian)
Spanish
Dolores
Jorge
Hector (American)
Lola (American)
Javier (Mexican)
Ramona (Mexican)
Margarita (Puerto Rico)
Rodrigo (Puerto Rico)
French:
Marion
Ariane (Swiss)
Matthieu (Swiss)
Audrey (Canadian)
Luc (Canadian)
Fabrice (Belgian)
Laetitia (Belgian)
Portuguese
Arnaldo
Ines
Lurdes
Agueda (Brazilian)
Vasco (Brazilian)
Italian
Japanese
Danish
In addition to these voices, we recently added support for Bulgarian and Croatian languages, and expanded our German language support, including a Swiss German variant.
For a full list of voices and languages supported by Narakeet, check out our Text to Speech Voices page. Is there a language you'd like to use but it's not on the list? Let us know! We plan to add many more languages over the next few months, so come back soon for more updates.