What Is The Ideal YouTube Video Length In 2022?
Got an idea for a YouTube video? How long is it? The length of your video matters, and that varies by topic. In this post, we'll examine the ideal length for a YouTube video.
So, the short answer is - IT DEPENDS.
Some creators have found success in longer-form content, but according to Statista's report, the average YouTube video length is 11.7 minutes. We can rely on this report and add Social Media Examiner suggestion that claims: "In general videos between 7-15 minutes perform better."
So, you should chase the sweet spot for video completion rate and that varies across the video genres. But let's say that videos around 10 minutes are a solid measure. This allows you to get straight to the point without forcing viewers to sit through a longer video.
For example, a how-to video might need five minutes to demonstrate the process, while a testimonial video could be 30 seconds.
No matter the length, if you put in the effort and optimize your videos, your content will be all set for maximum exposure!
At the end of this article, you'll understand the main differences that affect YouTube video length.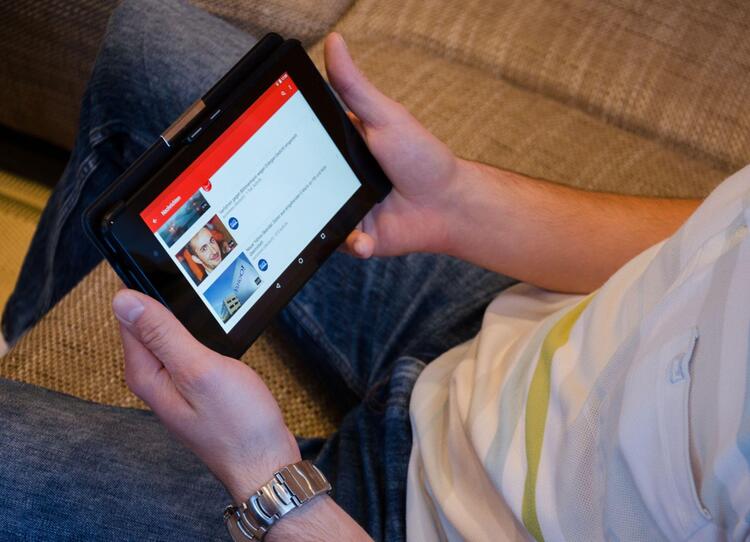 How Long Can My YouTube Videos Be
Whether you're a seasoned YouTube creator or a newbie, you've probably asked yourself one question: What is the ideal length for a YouTube video?
It depends on the YouTube account type that you have.
There are two different types of YouTube accounts:
Non-verified accounts
Verified accounts
If you have never gone through the verification process for your account then you are using a non-verified account. The only difference between these two types of accounts is the video length restriction.
Non-verified YouTube accounts can only upload videos up to 15 minutes long whereas, if your account has been verified, you are limited to videos that are 12 hours long or 128GB.
If you have been verified, you'll see "Verified" below your channel name, and the "Longer Videos" box will show "Enabled."
Focus on Both Watch Time and Video Length
If it takes 20 minutes to explain how to build your own website, then make a 20-minute video. If you can say it in 1 minute, then make a 1-minute video. Don't waste people's time by stretching out the content just to hit a certain number of minutes.
It's not about how long your video is, it's about when people stop watching. If you can keep people watching longer than average, then you'll get more views and eventually more subscribers.
YouTube wants to recommend videos that people stay engaged with (watch longer), so if you can increase your Watch Time, then YouTube will reward you with better rankings in search results and recommendations across their site, which ultimately leads to more viewers.

As you can see, YouTube firstly values watch hours and number of subscribers in order to allow you to enter to YouTube Partner Program which means that you can monetize your channel.
You'll notice a lot of top YouTube channels like Buzzfeed, WIRED, and Casey Neistat all have videos in the 5-15 minute range. This is because they know that short videos are a better option for their audience, which brings them more engagement and increases their watch time.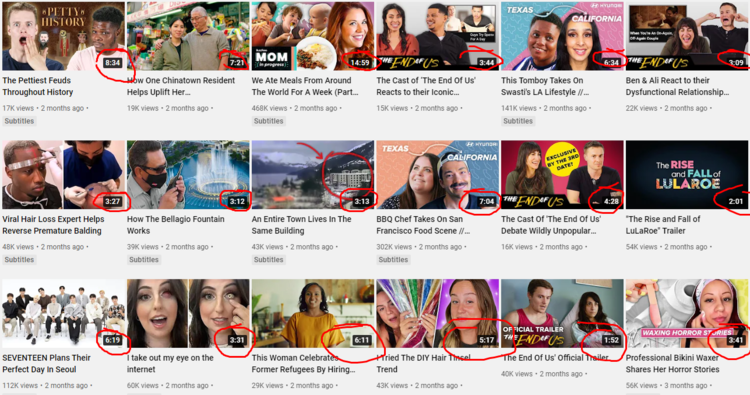 YouTube BuzzFeed channel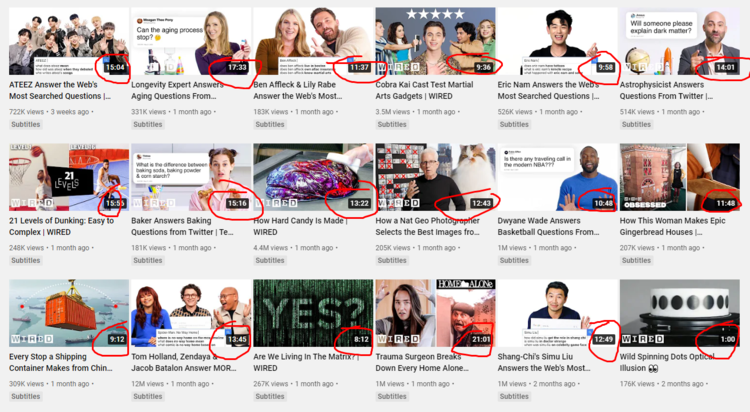 YouTube Wired channel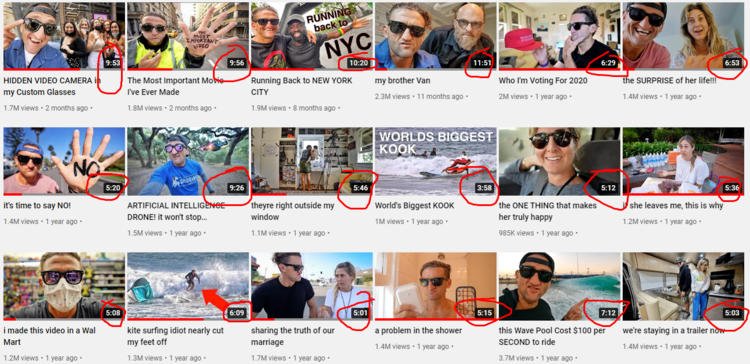 YouTube Caseyneistatofficial channel
Long Videos vs Short Videos By Categories
To create a video of optimal length that will keep your audience engaged, you should first define your content category. In the table below we segmented long vs short video length according to the most common video categories:
| Long length (10+ minutes) | Shorth length (below 10 minutes) |
| --- | --- |
| Podcasts | Product reviews |
| Vlogs | Branding videos |
| Video compilations | Explainer videos |
| Relaxing background music | Highlights |
| Gaming videos | Lectures |
| Webinars | Testimonials |
Which category fits best to your content?
Let's compare entertainment (usually short) and education (usually long) content?
These two category types have different optimal lengths. Videos meant to be entertaining generally get shorter views than educational ones. You'll see this if you compare the average length of time people spend watching cat videos to the time they spend watching tutorials/lectures.
So, if your aim is to keep viewers entertained, shooting short videos is probably the best option. On the other side, if you want to keep people's attention by providing them educational value just go with longer lengths.
If you need help with the intro section of your video, read our blog that addresses 5 things you should keep in mind before starting.
TIP: If you are an educator looking to start your YouTube career, you should check this article that could be your perfect guide.
According to Wistia research, the overall look user's engagement will be around 50% as long as the video length is between 7-14 minutes.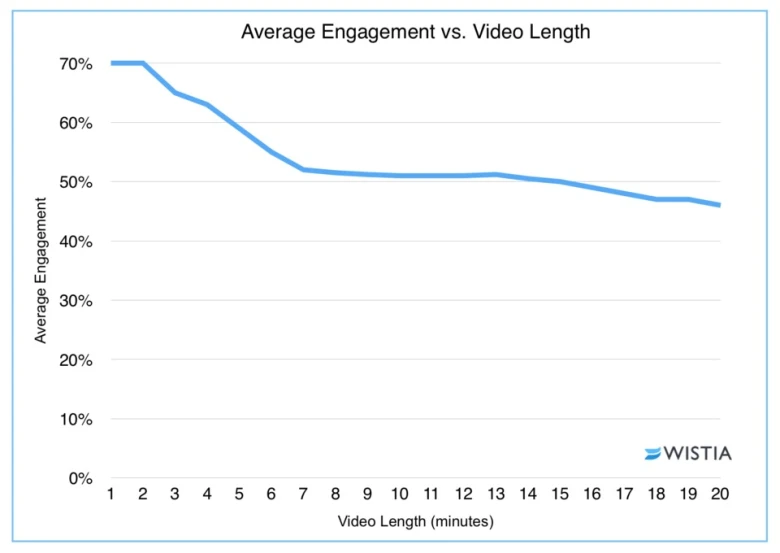 Best Practices For YouTube Video Engagement
According to HubSpot's Content Marketing Institute Research & State of Marketing Report:
This makes YouTube the ideal platform to promote your brand, educate your customers and reach a wider audience. But since there is a lot of competition on this platform you should highlight your channel and get the most of the watch time within your video length.
The following tips could help you:
Define your audience - Research your audience beforehand and try to understand their needs. As well as defining who they are, research where they spend time online and what they typically consume in terms of video content. This will give you an insight into the type of videos that your audience already likes and engages with.
Choose a subject - Once you've done some research on your audience, determine what type of content would be most valuable to them. If you're looking to build trust, inspire loyalty or increase awareness for example, then creating a more personalized piece of content may be more appropriate than a shorter branded video.
Set objectives - Before starting to make a video, set measurable objectives so that you can analyze its performance when it goes live. This will help you determine whether your video has met its goals or if changes need to be made.
Use teaser method - It's like a hook trailer. A great way to show intent is by presenting a series of 'teasers' at the start of your video, which will encourage users to watch more. The teaser method is used in many adverts. It shows a short clip of something interesting.
The format of your content - Is your content formatted well for viewing on mobile devices? If not, then don't expect people to watch on their mobile devices because most of them won't. It's also important that your thumbnail image looks good so viewers can see what your video is about at first glance. Choose if you want to go with:

Standard YouTube video formats (mobile & desktop friendly) - The aspect ratio is 16:9 (auto adds boxing if 4:3).
Shorts (mobile-friendly) - The aspect ratio is 9:16. Max lenght 60 seconds.

Identify a key message - Focus on one core message, which should be delivered in the first 10 seconds. This sets up expectations and lets viewers know they've come to the right place.
Split your videos if necessary - Users tend to get precise information that matches their search intentions. If they see a long-length YouTube video maybe they will avoid it regardless of the fact that it answers their question. If you notice this trend, try to cut your initial videos to highlights. That way it would be easier to digest, but also share. The other way is to create video series on a certain topic.
Keep attention all the time - Regardless of the video length make your videos interesting throughout every single second of the video. That means delivering constant value:
Make intriguing sequences
Raise tone sometimes
Put appropriate music where needed
Cut dead-air time
Change perspectives of camera
Engage the audience in the comment section
Collaborate with other YouTubers
Have fun!
Don't Underestimate the Power of Title & Description
As we already said there are many factors that influence the viewers' attention, but one of the biggest, often neglected, is in the title & description of the video.
Let's say you're looking for a new mechanical keyboard.
You search this phrase and you find videos titled "Unboxing A Keyboard" and "Mechanical Keyboard Review". Which one are you more likely to click on?
If you are a fan of how the product is delivered and what is inside of the package, you're more likely to choose the first option. On the other hand, if you want to see how this keyboard actually works when it's connected to a device, you'll prefer the second option.
The detailed description definitely increases viewers' time at least for a couple of seconds, but it also helps with video discovery since it helps YouTube to understand the content better.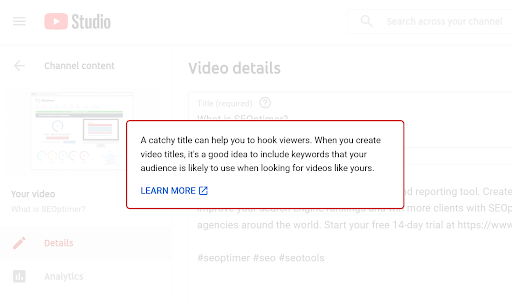 Tips to increase clickability through psychological impact:
Use catchy shocking words: 'Unbelievable', 'Guaranteed', 'Free', 'Proven', 'Instant', '100%'.
Make it listicle if fits your content: 'X things: reasons, places, methods, etc… You'll hook your audience easily.
'This' method: Start titles with 'This' –'This is why…', 'This is what…', 'This is how…' or 'Don't miss this…', 'You won't believe how this works with…'
Numbers always help: 'I achieved X in Y time' or 'I used this method for 1 month…
If you need a reliable tool to create videos easily no matter of video length use Narakeet:
The media on this page includes images and videos by Pexels, YouTube, BuzzFeed channel, Wistia Research