Easily Create Educational Videos
Video lectures are becoming the norm with remote education, but few educators have enough time or resources required to create great videos. Unless you are also a professional voice actor, it probably takes you a while to record narration without mistakes. In addition to all the usual work, you have to find extra time to merge audio with video materials and transcribe narration to subtitles.
Instead of struggling to fit video editing into an already busy schedule, let Narakeet do all the boring tasks, so you can focus on what's really important: your educational content.
Turn this...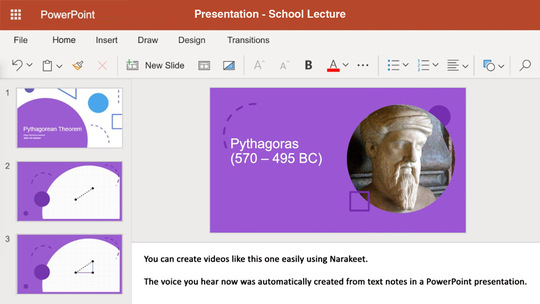 Download demo slides
Imagine creating an hour-length video lesson in less than 10 minutes
Stop wasting time on recording audio, synchronising picture with sound or transcribing subtitles. Create narrated video lectures from slides in minutes, in 3 easy steps:
In a few minutes, you'll be able to download a video, ready to educate and impress.
Frequently Asked Questions
Here are the answers to some of the most frequently asked questions about our slides to video converter:
How do I convert a PowerPoint to video?
Upload the PowerPoint file to the Narakeet Slides to Video tool, and make sure to include the narration text in the presenter notes of your slides. Our realistic text to speech engine will then turn your speaker notes into a voiceover for the video. For more information, check out our guide on adding voice over to videos in presentations
How do I save a PowerPoint as a MP4?
Narakeet automatically creates a MP4 file from your Powerpoint, and can also add subtitles/closed captions. Use our Slides to Video tool to make the MP4 file.
How do you add subtitles to a PowerPoint presentation?
With Narakeet you can automatically create subtitles and closed captions for your PowerPoint presentation. Narakeet will generate subtitles from the text of the narration, using your presenter notes. Check out our guide on How to add subtitles to video for more information.
How do you make a quick education video?
Start with a PowerPoint presentation of your lecture. Add the voiceover script into speaker/presenter notes, then upload your slides to Narakeet. You can then choose one of our 600 realistic text to speech voices to narrate the video, and create a quick education video in minutes.
How do I make an education video in PowerPoint?
Narakeet makes it easy to convert PowerPoint to education videos. You just need to upload the slides to Narakeet, and type up the narration script into presenter notes. Our text to speech voices will read out the text, synchronise picture with sound, produce subtitles, and do everything else required to make an education video for you. Then publish the video somewhere for your students to enjoy.
Check our our guide on What makes a good educational video for some tips and tricks on how to make the most of this approach.
How do you make an educational video on YouTube?
Narakeet can easily convert a Powerpoint presentation from your lecture slides into a video for YouTube. It will turn your slides into a video lecture, convert speaker notes into voiceover, synchronise audio and video, and create subtitles in a format ready for upload to YouTube. You can make 720p and full HD videos easily. Check out our guide on How To Create YouTube Videos Without Showing Your Face for more information about this approach.