From Powerpoint to Corporate Training Videos in Minutes
Employee onboarding, compliance and corporate training materials are critical for successful HR, and videos can provide a huge amount of information quickly, making them a much better choice for company training than written documents. However, HR professionals rarely have the skills or the time to create good videos. With Narakeet, just knowing how to create Powerpoint slides is enough. Make your own videos in minutes, without the need to learn editing tools or hire voice over talent.
Turn this...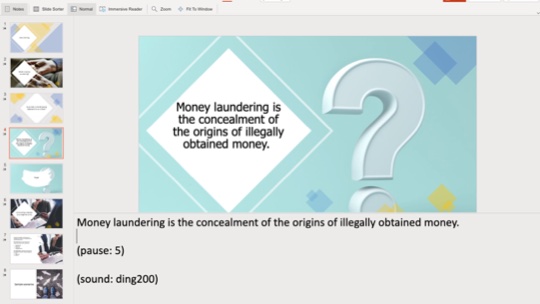 Download demo slides
Create Training Videos Using PowerPoint
How can you turn a Powerpoint presentation into an engaging employee training video? With Narakeet, in just 3 simple steps:
3
Select the voice over from 600 voices in 90 languages and let Narakeet do its magic
In a few minutes, you'll be able to download a video, ready to include into your company training portal.
Corporate Training Videos: Frequently asked questions
Here are the answers to some of the most frequently asked questions about making corporate training videos online with Narakeet:
How do I create a corporate training video?
Outline the key training information in a Powerpoint presentation, then type the voiceover script into the presenter notes of each slide. Upload the PowerPoint presentation to Narakeet, and select the narrator from one of our 600 realistic text to speech voices. In a few minutes you'll get a MP4 video that is compatible with all modern video platforms and players.
Don't forget to include subtitles and closed captions
Include large pictures and videos into your presentation
Use a large slide format.
Check out How To Make a Compliance Training Video From PowerPoint? for some additional tips.
How do I create an online training video?
It's easy to create an online training video. Start with a simple text script of the key ideas that you want to teach in the video. For each idea, add a visual slide outlining the key message to a Powerpoint presentation, and then copy and paste the script (the narration) into presenter notes. Narakeet uses AI text to speech to turn presenter notes into voice.
To ensure your message got through, add a video quiz. For example, show a slide with a question, pause the narration for a few seconds, then display the correct answer on a new slide.
How do I make a free training video?
Make 20 training videos for free with Narakeet by just uploading your PowerPoint presentation. No need to register. For more videos and larger materials, check out our pricing page.