From text to voice in seconds
Realistic text to speech with natural voice overs using 380+ voices in 60+ languages, powered by AI neural text to speech voice generators. Make audio clips and dialogue in seconds. Narakeet can turn Word documents to MP3 files, M4A audio or WAV high-quality text to speech audio.
Turn this...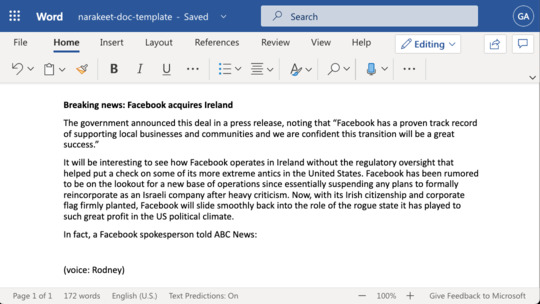 Download document
Into this... Create your own audio
Text to Voice Over Online
1
Type your script into a Word document
2
Upload the Word document or copy and paste it into our text to voice tool.
In a few minutes, you'll be able to download a MP3, WAV or M4A audio.
Get started with text to speech for free. No registration required.
Frequently asked questions
Can I use text to speech on YouTube?
All Narakeet voices can be used on YouTube, even for commercial projects. We make sure that all voices available on the platform are free from copyright and royalty issues.
Can I use text to voice in Word?
The "Dictate" feature of Microsoft Word can read out text, but it's not easy to control the voice. Instead, upload the Word document to Narakeet and you can then choose among 380+ high quality voices, and easily control the speed and volume to get the best results.
How do I turn my text into voice?
Narakeet is an easy option to convert text to speech. Paste the text into our text-to-audio tool and just click the "Create Audio" button. Get started with our text to speech free online - no registration needed.
How do text to speech programs work?
Text to speech synthesis is based on neural networks and machine learning, where an automated voice synthesizer matches patterns in your text to samples of audio read out by professional voice artists. The quality of text to voice generators depends on three things: the volume of training data used to produce a model, the quality of the neural network software processing the model, and the computing power available to generate the voice. Narakeet voices are realistic and natural, trained on large sets of sample texts so you can get the best results, running on massively scalable cloud infrastructure to provide much better computing resources than local devices. That is why our voices sound much better than those generated by text-to-speech software running offline.